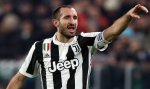 Juventus suffered some devastating news just before the end of the summer transfer window. The reigning Serie A champions lost one of their key players, centre-back Giorgio Chiellini, to a knee injury. It turned out the veteran Italy international suffered a ligament injury. He will miss more than six months, and Juventus already confirmed he won't return until 2020. In other words, The Old Lady will have to play most of the 2019-20 campaign without their star centre-back.
The Torino-based club attempted to sign a replacement before the market ended. Jerome Boateng, Mehdi Benatia and Dejan Lovren all appeared as potential options. However, neither arrived at the club. In fact, Boateng rejected a move to Juventus and instead decided to stay at Bayern. The result of this fracas was the fact that Juventus couldn't sell Daniele Rugani, as he ended staying with the club to increase the depth at the back.
Juventus should have acted differently over the past few days
However, this wasn't a smart move from Juventus. Injuries happen, and now Juventus could be considerably shorthanded at the centre-back position. The injury from Chiellini and the retirement of Andrea Barzagli has left Juventus with only three "true" CBs ahead of the 2019-20 season: Matthijs de Ligt, Leonardo Bonucci and Rugani. De Ligt and Bonucci certainly are world-class defenders, but a competitive team also needs depth. It's a long season after all, and having enough depth could be the difference between winning the title or not.
Trying to sign a player of a similar caliber to Chiellini's wouldn't have been possible. The transfer market was only days away from closing when Chiellini suffered the injury, and Juventus didn't have enough money to sign a first-choice replacement. But adding ANYONE would have been a better strategy than simply stand pat.
How hard would have been to acquire Lovren, knowing Liverpool wasn't opposed to sell him? Or perhaps re-capture Benatia, who is currently playing in a minor league such as the Qatar Stars League. Getting Boateng was harder, but there could have been other alternatives on the market.
Now, Juventus will have to alternate Bonucci, Rugani and Merih Demiral next to Matthijs de Ligt on defence. Not to take anything away from these three players, but they represent a big downgrade in comparison to Chiellini. Especially the last two. Clearly, they should have taken a different approach. And now that they didn't, they could pay a hefty price for that.