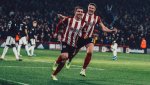 Sheffield United and Manchester United played out one of the games of the season so far earlier this evening as they produced a six-goal 3-3 thriller at Bramall Lane. The Blades came into this game knowing that they had a good chance of causing the upset against a depleted Red Devils side, and for large portions of the game, it really did seem as if they were going to get the job done.
Pushing back
John Fleck was able to give Sheffield United an early lead to really put Ole Gunnar Solskjaer's men on the back foot, which is where they remained for all but seven minutes of this fascinating encounter. Lys Mousset made it two early in the second half, and at that stage, nobody could really see any logical way back for the visitors.
Then, in a stunning seven-minute spell, the game completely changed. Brandon Williams pulled one back for his side to really put the pressure on Chris Wilder's men, and then before we knew it, Mason Greenwood had equalised. Marcus Rashford put the cherry on top by giving them the lead, but in the final minutes of the game, Oliver McBurnie came to Sheffield United's rescue and ensured that they would, at the very least, be leaving with a point.
A true classic
The game served as a reminder to Manchester United fans all around the world that they hadn't quite pulled themselves out of the chaos just yet – and, in fact, that there's still a pretty long way to go. Solskjaer's tactical void really does need to be called into question, because at this point, many people can't really see any remaining form of hope. You never know what is around the next corner but with the January transfer window almost being upon us, there are plenty of reasons to believe that United will look elsewhere for a new manager.
Sheffield United's unlikely push for a place in the top six is going incredibly well right now, and they're going to try and continue that push next weekend when they travel to Molineux to face Wolverhampton Wanderers. Man United will travel to face Astana before hosting Aston Villa in the Premier League.